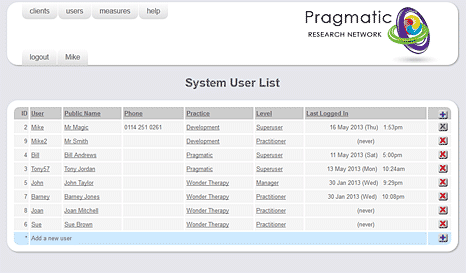 The User List shows you a list of users in the system, including their login and public names, contact details and privilege level. The User List can act as a directory of Users on the system. If you have sufficient privileges, ie. you are a Superuser, then this list will show all the users on the system. For Therapists and Managers the list will show Users within their own Practice.
Sorting the User List
The column headings that have underlines are effectively buttons to sort the User List. If you click the Name heading the list will be sorted by login name, in ascending order. Click the same heading again and the sort order is reversed. You can sort the User List by any of the underlined headings.

Filtering the User List
You can reduce the length of a long user list by filtering the list. Certain columns highlight as you mouse over them, the Practice column for example. Clicking a highlighted Practice name will reduce the User List to just the users belonging to that Practice.

While the list is filtered a button showing a filter funnel appears in the column heading and you can remove the filter and return to the full list by clicking the funnel button.
Managing your User Profile
Regardless of your role and privileges in the system you can edit your own User Profile - to change your password or email address for example. In the banner at the top of the page, click the button showing your login name - next to the logout button. This will open a new page where you can edit your User details. [more here...]
Editing Users
If you have Manager or Superuser privileges you can add new Users to the system and make changes to existing users.

To Edit a User click his login or public name - it highlights as you mouse over it tho in a different colour the the fields you can filter on. This will open up a new page where you can edit the user's details. [more here...]
Adding a New User

To Add a new User click the small blue plus button at the right of the list headings, or click the blue bar at the bottom of the list. This will open up a new 'Create new user' page. Once you have invited the user to sign up they will get the opportunity to create their username and password and to read and accept the terms and conditions for the use of Pragmatic Tracker.
Deleting Users
To delete a User click the appropriate red cross button to the right of the User's details. Pragmatic Tracker will show you the User's full profile and ask for confirmation that you really want to delete that User. Note that you cannot delete yourself!
WARNING: If you delete a user with assigned clients you must re-assign the clients to a different user before you can book further sessions with them.