Security is an essential part of Pragmatic Tracker and, as a user, you can help keep it secure by choosing a strong password and guarding your password carefully. If you think someone may have discovered your password you should change it immediately - see 'Managing your user profile' for details.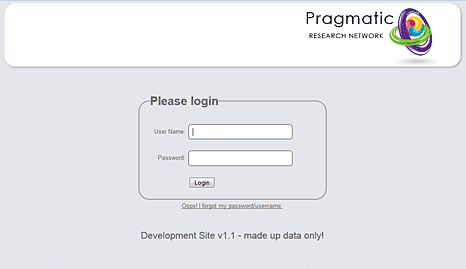 Some installations have both a live site and a training site. These will display a short message at the login screen to remind you which site you are logging into.
If you forget your password
Because it stores passwords in a strongly encrypted format, Pragmatic Tracker can't tell you your password if you forget it. What it can do is email you a single use, time limited link to a special page where you can enter a new password.
At the login page click the 'Oops! I forgot my password' link.
Enter any two from your username, email address and telephone number
Click the 'Send...' button
Pragmatic Tracker will send you an email with a link. Either click the link in the email or copy/paste it into your browser to open the password reset page, check that it shows your own username and then enter a new password.
Note that the link you receive by email lasts only for an hour (though this may be different in some systems) so use it immediately.
If you did not enter an email address in your user profile you can't use this method of resetting your password and you must ask a manager or superuser to reset your password for you.
NOTE: In single user systems the 'Oops! I forgot my password' link will automatically generate a re-set link
Auto logout
As an added security measure, if you leave your computer unattended or do not use Pragmatic Tracker for more than 30 minutes (typically - may be different on some systems) it will log you out automatically. If this happens just login again as normal and pick up where you left off.